Kawai is delighted that legendary band Coldplay chose to use Kawai ATX2 upright pianos and MP series stage pianos thoughout their 2016-2017 touring in support of the 'Head Full Of Dreams' album. The schedule included their performance at the Super Bowl, pictured above.
Coldplay pianos: K-300 ATX2
Visit Coldplay online
Julian Saphir studied at the Royal College of Music, and is firmly re-establishing himself as one of Britain's finest pianists after a long absence from the concert platform. He is renowned for his remarkable blend of profound musicianship, hair raising virtuosity and the ability to entertain as both soloist and chamber musician.

Julian's first venture with Kawai was back in 2005 where he enjoyed the twin roles of performer in and Artistic Director of his Master Musicians Concert Series at Harewood House, Leeds, UK which played host to a Shigeru SK-EX Concert Grand. The following year Julian chose the Shigeru for a performance of Prokofiev's Third Piano Concerto with the Harrogate Symphony Orchestra. Further concerto performances have included Rachmaninoff's 2nd and 3rd in 2009 and 2012 respectively.

As well as a touring concert pianist, Julian is also a highly dedicated and experienced teacher. His students have come from far and wide and are inspired by his undiluted passion for music and its greatest figures. Julian recently set up his music education project Saphir Inspires -Piano Workshops. He has travelled all over the UK to schools and colleges presenting his Masterclasses and performing to young pianists of all ages and abilities. He plans to extend the project internationally next year.
Julian's pianos: RX-3 Grand , K-2 ATX
Visit Julian online
9th Hamamatsu International Piano Competition:
1st place prize winner Alexander Gadjiev selects Shigeru Kawai SK-EX full concert grand piano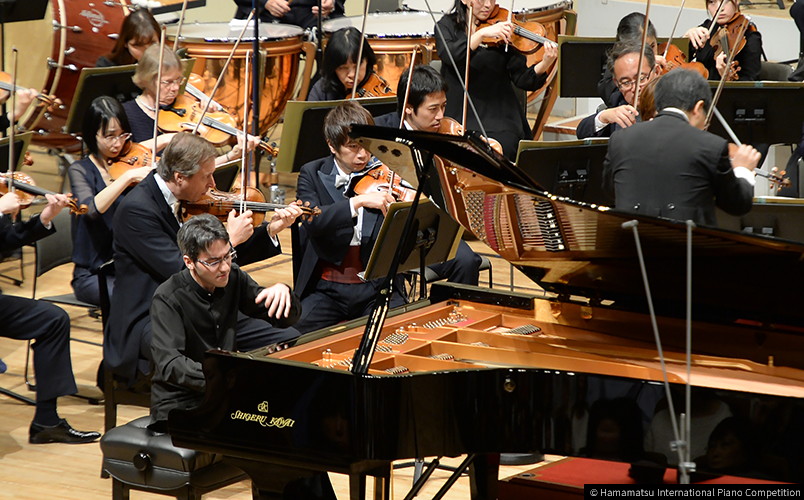 Italian pianist Alexander Gadjiev has been awarded the 1st prize by a panel of judges at the 9th Hamamatsu International Piano Competition (held in the city of Hamamatsu, Japan, from 22nd November until 8th December), following a series of performances playing the Shigeru Kawai SK-EX full concert grand piano. The SK-EX was also selected by a number of other prize-winning contestants and finalists.

9th Hamamatsu International Piano Competition: Final Results


1st Prize
Alexander Gadjiev (Italy)
Shigeru Kawai SK-EX
2nd Prize
Roman Lopatynskyi (Ukraine)
Other
3rd Prize
Alexei Melnikov (Russia)
Shigeru Kawai SK-EX
Daniel Hsu (USA)
Other
Alexia Mouza (Greece/Venezuela)
Other
4th Prize
Florian Mitrea (Romania)
Shigeru Kawai SK-EX
Best Performer of a Japanese work
Igor Andreev (Russia)
Other
Diploma of Outstanding Merit
Miura Kenji (Japan)
Shigeru Kawai SK-EX
Chamber Music award
Florian Mitrea (Romania)
Shigeru Kawai SK-EX
Audience award
Alexander Gadjiev (Italy)
Shigeru Kawai SK-EX
Kawai has provided instruments for official selection in the Hamamatsu International Piano Competition since the inaugural event was held in 1991, with top prize winner Victor Liadov selecting the EX concert grand piano at the 2nd competition held in 1994. A record 449 pianists from around the world applied to compete at this year's 9th competition, with 72 participants selected to perform. Following three stages of qualifying, the final round was contested by 6 participants, with the first prize awarded to Italian pianist Alexander Gadjiev, who selected the Shigeru Kawai SK-EX full concert grand piano throughout the competition. Speaking after the final, Mr Gadjiev, who also received the competition's Audience award, explained that he had selected the SK-EX for its supremely colourful tone, allowing a great range of musical expression to be achieved.
Third place prize winner Alexei Melnikov (Russia), Fourth place prize winner and Chamber Music award winner Florian Mitrea (Romania), and Diploma of Outstanding Merit award winner Miura Kenji (Japan) also selected the Shigeru Kawai SK-EX throughout each round of the competition.
As one of three piano manufacturers' instruments available for official selection, the Shigeru Kawai SK-EX proved extremely popular among contestants throughout the competition. In the first round, 24 of the 72 participants selected Kawai, followed by 11 out of 24 contestants in the second round. Of the remaining 12 participants that reached the third round, 7 pianists selected Kawai, while the final was contested by 6 individuals, 3 of whom performed using the SK-EX.
About the Hamamatsu International Piano Competition
Established in 1991 to commemorate the 80th anniversary of Hamamatsu's inauguration as a city, the Hamamatsu International Piano Competition is held every three years, and seeks to promote the unique musical history and tradition of the region. The competition provides an opportunity for young pianists from all corners of the globe to exhibit their technical skill and artistic ability, while advancing international exchange through world music culture.
About the Shigeru Kawai SK-EX full concert grand piano
Unveiled in 2001 as the flagship instrument of the Shigeru Kawai line, the SK-EX concert grand piano is hand-crafted in limited numbers following a unique 'prototyping' creation process. In order to achieve the supreme range of expression required in a concert piano, each instrument utilises a variety of carefully selected materials, with premium aged spruce soundboards. Shigeru Kawai instruments adopt the advanced Millennium III keyboard action, featuring extended wooden keys and advanced ABS Carbon action parts, providing superior speed and responsiveness than conventional wooden action parts, allowing pianists to express a greater range of feeling and emotion in their performance.
"The MP11 is fast becoming my go-to weighted keyboard in the recording studio. The piano sounds hold their own against my Bosendorfer Concert Grand, and the Electric Piano sounds have already made their way into a few of my recent productions. As a weighted MIDI controller, the hammer action is flawless, and lends to an extremely natural replication of performance dynamics. Layering of patches, and splitting of sounds across the keyboard is intuitive and effortless; invaluable in fast paced environments."
It is highly unlikely that your music collection doesn't include at least one song or album involving Trevor Horn's skills. Trevor is a producer, songwriter, and performer with a real passion for musical creativity and quality, clearly embodied in ZTT Records, which he co-founded, and the high regard in which SARM Studios is held.
His work is characterised by a high level of musical insight and open-mindedness and in all his roles he has a strong idea of how he wants something to sound before the final concept is put together. Trevor's personal selection of the Kawai MP11 for stage and studio work shows how brilliantly our digital piano technology can meet the very highest musical and creative expectations.

Trevor formed The Buggles with Geoffrey Downes and his production was key to the first days of legendary electronic art music band The Art of Noise. He also spent a considerable period with the progressive rock band Yes including co-writing and production on their hugely popular 90125 album including the MTV hit 'Owner Of A Lonely Heart'. Trevor has often been referred to as 'the inventor of the 80s' and his work has engaged with a plethora of world class artists including the Pet Shop Boys, Frankie Goes To Hollywood, Rod Stewart and Malcolm McLaren.
A look at his discography (www.trevorhorn.com/discography/) shows he is very active and relevant today, with recent credits including work with The Overtones, Johnny Borrell, Robbie Williams, John Legend and Olly Murs.
He is currently working on Seal's forthcoming new album, amongst others, and performing live with the Trevor Horn Band. Their March 2015 gig at the O2 in London received great reviews including one from Classic Rock Prog Magazine, and it involved the use of two Kawai MP11 pianos on stage. The Band also performed at the Cornbury Festival 2015 in Oxford to an audience of over 10,000, and the Melt Festival 2015 in Germany. Given the involvement of artists including Trevor, Geoffrey Downes (Buggles, Asia, Yes), and Lol Creme (10CC, Godley & Creme), they certainly have a vast catalogue of top-class songs to pick their set-list from.

Here at Kawai, we are very proud to have our instruments selected by such a creative and progressive musical figurehead.
Visit Trevor online
"When the West End production of 'Wicked' opened in 2006, I realised that the demanding nature of the Keys 1 part would require a top quality keyboard. I tried out various instruments to see which felt closest to a real piano, the only one that satisfied me was the Kawai MP4. Since then I have also played MP5, MP8 and I'm currently using an MP10.
All the Kawai MP keyboards I've used in the show have been 100% reliable and have maintained their consistency of touch." Pete Whinnett, 1st Keyboards, 'Wicked'

Pete took his first piano lessons at the age of 6 and then studied at Chetham's School of Music in Manchester from the age of 9.

Doctor Gradus, the art-rock/jazz/impressionist quartet, is Pete's current creative project. Doctor Gradus re-imagine the music of the French impressionists, requiring Pete to run the dynamic gauntlet from an intimate chamber accompaniment to improvising over an uncompromising rock power trio via be-bop runs and syncopated unison accents. The band's debut album was release in January 2015 on the Musea Paralelle label.

Pete is also the principal keyboardist in the Laurence Olivier Award winning West End show Wicked where he uses a Kawai MP10 exclusively; the advanced pianistic writing demanding a natural feeling hammer action but with all the versatility, connectivity (and space saving!) that only a stage piano can provide.

As a live and studio session player he has worked with a wide range of artists from Mary Coughlan to David Foster and he toured the world extensively as pianist / keyboard player for the original production of Riverdance.
Visit Pete online
Dan Burnett is one of the UK's best blues and soul piano vocalists. It's in his blood.
The son of professional guitarist Laurie Burnett, Dan was spoon-fed blues, soul, funk and rock music from an early age.
As a youngster, Dan's dad had guitar tuition from his good friend, the legendary Mick Ronson and was in bands with Mick 'Woody' Woodmansey and Trevor Bolder after they were members of David Bowie's 'Spiders from Mars'. Dan plays throughout the UK, Europe and the USA as a solo performer and with The Dan Burnett Band and has shared stages with top names including: Aynsley Lister, Paul Jones, Debbie Davies (USA), Todd Sharpville, Gerry McAvoy's Band of Friends, Nine Below Zero, and Mick Ralphs.
In February 2015 Dan released an E.P. with his band, which has received national and international acclaim, and amazing reviews. Since the E.P. release, Dan has had a successful promotional trip to New York, and had one of his songs featured on BBC Radio 2.

Dan is delighted to have established a relationship with Kawai pianos.

On the MP10:
"The MP-10 has the best action of any stage piano I've played. With it's fantastic piano and EP sounds and great build quality, it's clearly an instrument made by a company who know about real pianos!"
Visit Dan online
Visit Dan on Facebook
Visit Dan on Twitter
Ashley says about Kawai:
"The Shigeru Kawai EX Concert Grand is the Crown Jewel amongst Kawai's pianos and is a model representing world class craftsmanship. It offers boundless possibilities for expression and delivers a deeply powerful and engaging creative experience."
British pianist Ashley Fripp has recently performed throughout the UK, Poland, Germany, the Netherlands, China, Japan, Australia and the USA, at such prestigious halls as the Carnegie Hall (New York), Royal Festival, Barbican and Wigmore Halls (London) and the Audimax Hall (Regensburg).
He has won prizes at more than a dozen national and international competitions, including the coveted Gold Medal from the Guildhall School of Music & Drama, Diploma of Outstanding Merit at the 8th Hamamatsu International Piano Competition, 1st Prize at the Brant International Piano Competition and the Award for Keyboard at the Royal Over-Seas League Competition. He has also made appearances on BBC television and radio.
He is a First Class Honours graduate of the Guildhall School of Music & Drama where he is currently pursuing postgraduate studies with Ronan O'Hora. Future plans include performances throughout the UK, France and Germany. His CD recording of both Chopin Piano Concertos will be released by Spektral Records in Spring 2013.
Visit Ashley online
Warren says about Kawai:
"Kawai's RX series deliver an exceptionally high quality of tone and touch across the range. Without exaggeration, these pianos are highly addictive so allow yourself plenty of time in the showroom! At the very top end, the flagship, handcrafted Shigeru SK concert grand series represent a pinnacle in the art of piano-making and provide the pianist with a further dimension of sound and potentially limitless degree of expression and control."
The award-winning concert pianist Warren Mailley-Smith has made his solo debuts to critical acclaim at Wigmore Hall London and Carnegie Hall, New York. In 2011 he made his much anticipated debut with the Royal Philharmonic Orchestra in a performance of Beethoven's Emperor Piano Concerto.
Warren is in increasing demand as a solo concert artist, having been described recently by Classic FM as 'Stunning...', 'Fantastic...' 'Sensational', 'Huge UK talent...', 'Gorgeous...!' and by BBC Music Magazine as 'Rising Star – Great Artist of Tomorrow" . He was recently featured as CD of the Week and Video of the Week on Classic FM and Classic FM TV respectively.
He has received over thirty invitations to perform for the British Royal Family at Buckingham Palace, Highgrove House and Sandringham House.
Warren studied at the Royal College of Music where he won numerous postgraduate prizes including a Countess of Munster Award and the French Piano Music Prize. He then took further private studies with Peter Feuchtwanger and the late Ronald Smith.
Warren's solo career now sees him performing in festivals and concert venues across the UK, accepting invitations from further afield to perform in Europe and the US. His concerto repertoire includes works by Rachmaninov, Beethoven, Chopin, Liszt, Mozart and Tchaikovsky and he works regularly with duo partners Rowena Calvert (cello), Susan Parkes (Soprano) and Matt Jones (violin).
Visit Warren online
Visit Warren on Facebook
Lara started to play the piano at age of 6 and she has won the BBC Young Musician 2010 competition at age 16, performing Saint-Saëns Piano Concerto No.2 in the final round, with Vasily Petrenko and the BBC National Orchestra of Wales in Cardiff.
Read our interview with Lara here: Interview with Lara
Her piano:
RX-3 Grand
Her motto:
"Music overcomes all barriers and languages."
Visit Lara Melda on Facebook
Logan Evan Thomas is a dynamic and innovative pianist/producer/entrepreneur residing in New York City. In 2010, he was honored to win 1st place at the Nottingham International Jazz Piano Competition, as well as finish 2nd place at the Montreux International Jazz Piano Competition. The previous year, Logan was 1 out of 4 pianists nationwide chosen to participate in Fred Hersch's "Solo Duo Trio" workshop and present a concert in Carnegie Hall. He is the founding member of the group "Manner Effect" who are comprised of some of the finest musicians in the NYC jazz scene. He is also established as a film composer as well as a producer of pop/r&b music. In 2010, Logan was the composer and music producer of a post 9/11 documentary feature film by Joseph Angel entitled "A View From Sunset Park" which won "Best Documentary" at the 2010 NY International Film Festival. In addition to all things related to being an artist, Logan is the Executive Vice President of Jalreign Music Group (JMG), in which he heads a recording studio, performance venue, and music T.V network called 'Caverock'.
His piano:
RX-2 Grand
|
Visit Logan Evan Thomas online
Muse is an alternative rock band from Teignmouth, England, United Kingdom. The band consists of Matthew Bellamy on lead vocals, piano, keyboard and guitar, Chris Wolstenholme on backing vocals and bass guitar, and Dominic Howard on drums and percussion. Their sound is a blend of alternative rock, classical music, electronica, metal, spanish guitars, and progressive rock.
Muse has released five studio albums. Their albums Black Holes and Revelations earned the band a Mercury Prize nomination and a third place finish in the NME Albums of the Year for 2006. Muse has won many other music awards throughout their career, including five MTV Europe Music Awards, five Q Awards, six NME Awards, two BRIT awards and four Kerrang! Awards.
Muse has been involved with Teenage Cancer Trust and performed at the Royal Albert Hall where they donated all money made from the merchandise stands to the charity. On 25 September, 2008, all three members of the band were awarded Honorary Doctorates of the Arts by Plymouth University.
Pianist and composer Anne Lovett has been described as one of the greatest artists of her generation, with a crystalline and beautiful tonal clarity and huge sonic power (an unusual combination), plus absolute virtuosity and a rare musical intelligence, expressiveness and ability to communicate.
Lovett has a highly distinguished background as a classical performer in her native France. She is unique in combining this virtuosity with composing her own works. This background means that she is exceptionally well placed to seek out fresh, innovative, energetic works which are also highly lyrical.
Anne has already recorded three albums since graduating from the Royal Academy of Music, including one with the unusual trademark of introducing her own piano compositions; which received rave reviews upon its release. Other recordings include chamber music collaborations for the label Champs Hill, solo contemporary classical works and another innovative partnership with BRIT Award winner, producer James Sanger.
Anne's comment about Shigeru Kawai:
"Ever since playing a Shigeru Kawai while in Los Angeles, I have been fascinated with the quality of these pianos. They offer an incredible dynamic range, as well as a quality of tone rarely matched."
Follow Anne Lovett on Facebook | Follow Anne Lovett on Twitter | Visit Anne Lovett online
Born in Sunderland, N.E. England, he lives in South-West Cambridgeshire with his wife Doris and 3 children, running his own Pre-Production and Project Studio.
He has been the keyboardist in the rock band Deep Purple since 2002, succeeding Jon Lord. He has had a long career, playing with such a great acts as : Gary Moore, Ozzy Osbourne, Judas Priest, Black Sabbath, Jethro Tull, Whitesnake, Colosseum II, Sinner, Michael Schenker, Uli Jon Roth, Rainbow, Ten, Divlje jagode and Living Loud.

His piano:
MP8 Professional Stage Piano
His comment:
"The MP8 sounds like a grand piano, it plays like a grand piano, and it's also the best master midi-controller I have ever used in a live or studio situation."
Don's Homepage
|
Follow Don on Facebook
|
Deep Purple Homepage
English Synthpop Band Human League founded in 1977. After a few changes they reached great popularity in the 80ies and a comeback in the 90ies. The only member from the beginning is Singer and Songwriter Phil Oakey from Sheffield, England.
His Instrument:
MP8 Professional Stage Piano
His comment: "I used to play many stage pianos, which all promised to have the feeling of a concert grand. KAWAI is the only brand, that offers an excellent Stage/Studio Controller - a dream to play and a "Concert Grand" preset to die for!"
Visit Neil on Facebook
Neil Sedaka continues to entertain multi-generational audiences of up to 20,000 people. Illustrative of the ongoing respect he enjoys within the industry, he recently served as the celebrity judge on the hit TV series American Idol. For many of his most important stage performances, Sedaka uses a Kawai KG-3 Plexiglass Grand Piano, which appeals strongly to his seasoned instincts as a showman. "People going to cabarets and nightclubs want more than a beautiful sound," he explains. "They want a visual treat as well. Visually, my Kawai shows up very well on stage, and it lights beautifully."

Sedaka actually owns two KG-3s. He purchased the instruments in the 1980s after hearing that Ray Charles and several other artists were using them to great effect in their stage shows. "Kawai has a wonderful reputation," he says. "They make a very respected instruments."
Visit Neil online